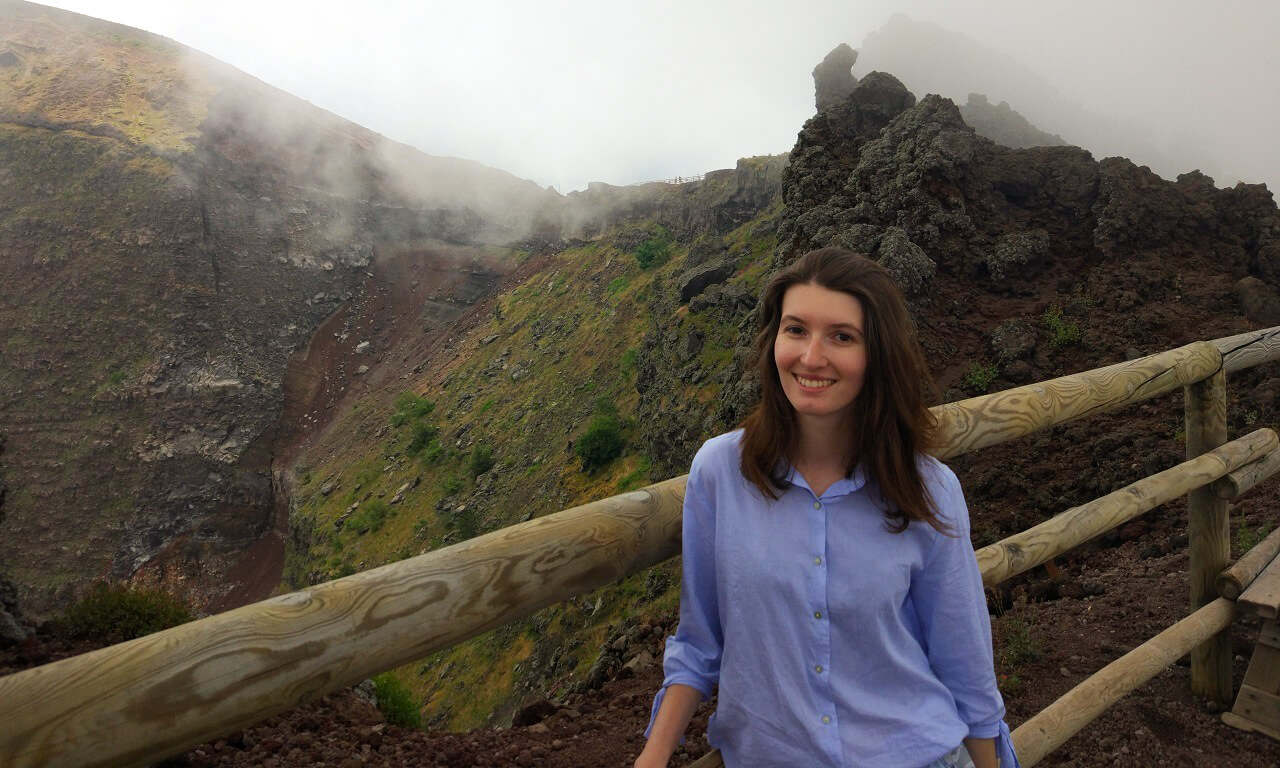 Iryna Skliar is a web-developer that thought that web-development was quite a boredom. She wanted to be a journalist, photographer, or oceanologist. She came to School++ with no knowledge, but within a year, she was working on a real project. She writes books and likes to travel. Supports School++ and volunteers as a mentor. Thinks that not everybody could be a developer. But one has to try to find out if its the job for them.
Irina lives in Germany now, works as a developer at a leading company of mobile recommendation applications market for gamers and dreams of developing computer games.
― Do you think any woman can code?
Not any, of course. There are such areas that need a certain predisposition. A woman's brain arranged a little differently. They have more emotional intellects. I wouldn't call this discrimination, but programming is not for every woman. I don't agree with the thought that anyone can just become a great specialist. But most people can if they just try to reach the set goals despite the fear of failure.
We all understand that not everyone can be a neurosurgeon, accomplished lawyers; after all, every person bias towards specific skills. If the goal is set, anyone can achieve anything; the difference is that it will take a year for one person and a month for another.
― How did you get to know programming and when?
I think every developer said at some point: "I always liked sitting at a computer." I spent a lot of time playing computer games. Gamedev developed rapidly back then and bugs along with it. Often they could be fixed by changing the files of the game's internal configuration. I had no problem googling and fixing it. It was the first time I thought that it would be cool not only to play videogames but also to create them.
I started to learn to program when I was a scholar with a family friend. I studied PHP and HTML. I was good at it, but this area itself did not bring much excitement; it was boring. I thought, "Ones I'm a developer, I won't have anything to do with PHP, let along with HTML."
― Where did you go to study after school?
I studied economics(laughing – editor's note). I left school after grade 9. The school did not bring any joy, and classes were boring ― you do all tasks in 5-10 minutes, and there is nothing more to do. The school didn't bring many warm memories in general; therefor the possibility of finishing two academic years in just one year in college(which means to save one year) was very appealing. But I did not know what I wanted to do for life. I only knew that I didn't want anything to do with jurisprudence because I hated law, history – all of that. I wanted to be a journalist, photographer, oceanologist. By the way, I got a high score on EIT (examinations for admission to universities in Ukraine), so I got a state-funded place in Oceanology Department. Still, my parents wouldn't let me study there. They said: "You're going to be an economist, and work with your dad, go study." So I did.
― How programming came back to your life?
After that highschool PHP studying everything ground to a halt, I don't even remember why it's been a while. Probably there was not enough time, so I did not return to programming. I became a junior specialist in college, then became a bachelor at CUNTU (Central Ukrainian National Technical University) and then got a master's degree in Kyiv. Then did nothing much for about a year until the thought came, "Something needs to change." Right at that time, a family friend that taught me programming told me about free Programming School++.
After I studied there for a while, I realized that coding was the thing I should have been doing this whole time. I enjoy the process of creating something from scratch ― it's not precisely writing books, but it's also art in a way.
Also, it allows flexible working hours, and you don't necessarily have to be bound to a workplace and work remotely. It's pretty important to me, having in mind my love for traveling and desire to live in different countries.
Another important thing: programming keeps you on your toes because of the necessity of continually figuring out new things and learn them. So in a way, programming is a way to keep my mind sharp in a long-term perspective.
It's a shame that I didn't insist on studying at a programming faculty at that time. The desire to spare one year ended up being five years wasted; all I had to do is to study in another wing of the same building(that college was training economists and programmers).
― It's fair to say that you did not know anything about coding coming to School++. What was the most challenging thing during studying?
Probably the permanent fear of failure, of doing a lousy job, and of being kicked out. That said, the studying process was easy for me; there were no complications. I have been preparing for the final exam for a long time. I knew that there would be five challenging tasks that I would have to solve in two hours. So every day, I was solving tasks from an online task book until I managed to answer five of them in two hours.
― Do you remember the beginning of your developer's path?
At work, it was a constant problem ― a lack of tasks. I had to kick people all the time: "give me tasks." It just so happened that my first job was firmly related to PHP (even though I studied other directions). So I worked in that direction although I promised not to do web-development before I even tried it. I thought it was dull boredom (laughing – editor's note). It turned out not to be that bed. It all depends on the projects you are working on.
― What was your goal when you started studying? What did you want to achieve?
There was no timeout between finishing studying and taking up on a job, so I didn't even complete my "final" exam. So I hadn't any time to set any goals. My main task was to gain experience, get practical knowledge, to get to the position where I would have a specific value as a specialist.
Right now, my contract says "full-stack developer," which in web-developing context means working with both backend and frontend. In reality, it can mean anything. For instance, you can wake up to the news that you are now working on the project on Unity(game engine- editor's note). I don't mind, though, it brings me one step closer to my dream of developing video games.
I work only for a month for a current company. I thought that I was doing everything slowly and that I should complete tasks faster. I reassured myself that I was new in this business area, unfamiliar technologies, a vast code base – everything is fine, calm down. The truth is that it didn't help much. But according to the first concluding conversation, it turned out that everything is fine, that everyone was mega-pleased with speed and quality of my job. They expected that on my part, there would be more questions since I just joined a new project, but I've proved to figure out things without side help.
My worries about my speed performance is a result of the propensity for excessive self-criticism.
― What would you say about School++?
This place allows for changing your life drastically. Everything is exactly the way it says in School++ Manifest – we give a chance to everybody. If a person wants to – they can study at School++. The key is self-motivation and diligence.
I remember our conversation with Roman; he was talking about school and children's education. I could be a naive utopian sometimes, but I remember thinking that Roman was the BIGGEST utopian I've ever met(laughing). He doesn't want to charge his students – its ok. Yes, Roman has to support school at his own expense and with the help of compassionate people. But if a person wants to do something that he cares about, why can't they? It's so cool when you can say, "I created a school where people can get a chance to change their lives for the best."
Advice for those who contemplate whether to start learning programming or not – give it a try. There are no pitfalls to be wary of, which must be weighed as pros and cons. If you have an opportunity to come to School++ – Just do it.
Yes, programming is tricky. It is going to be pretty bad at the beginning, and not clear at all. You will run up against something that doesn't work all the time. You would have to overcome yourself every day; the main thing is not to get scared. The less experience you have, the more time you have to spent fighting a specific problem, and the more patience and desire you need to overcome it. That is probably the most considerable difficulty in learning programming – people give up. It will become more manageable, and you will gain experience; problems won't disappear, but you will know many ways of solving it, your way of thinking will be shaped for finding the solution.
Even though Irina moved to another country, she actively participates in the life of School++. She is known as a demanding and good developer. She was that person that developed a learning portal for School++, which adult students use to study in peer-to-peer format.
She will always give practical advice and help to solve challenging tasks. She will find a grammatical error where no one else sees one.
Also, Irina already has written five fantasy books.