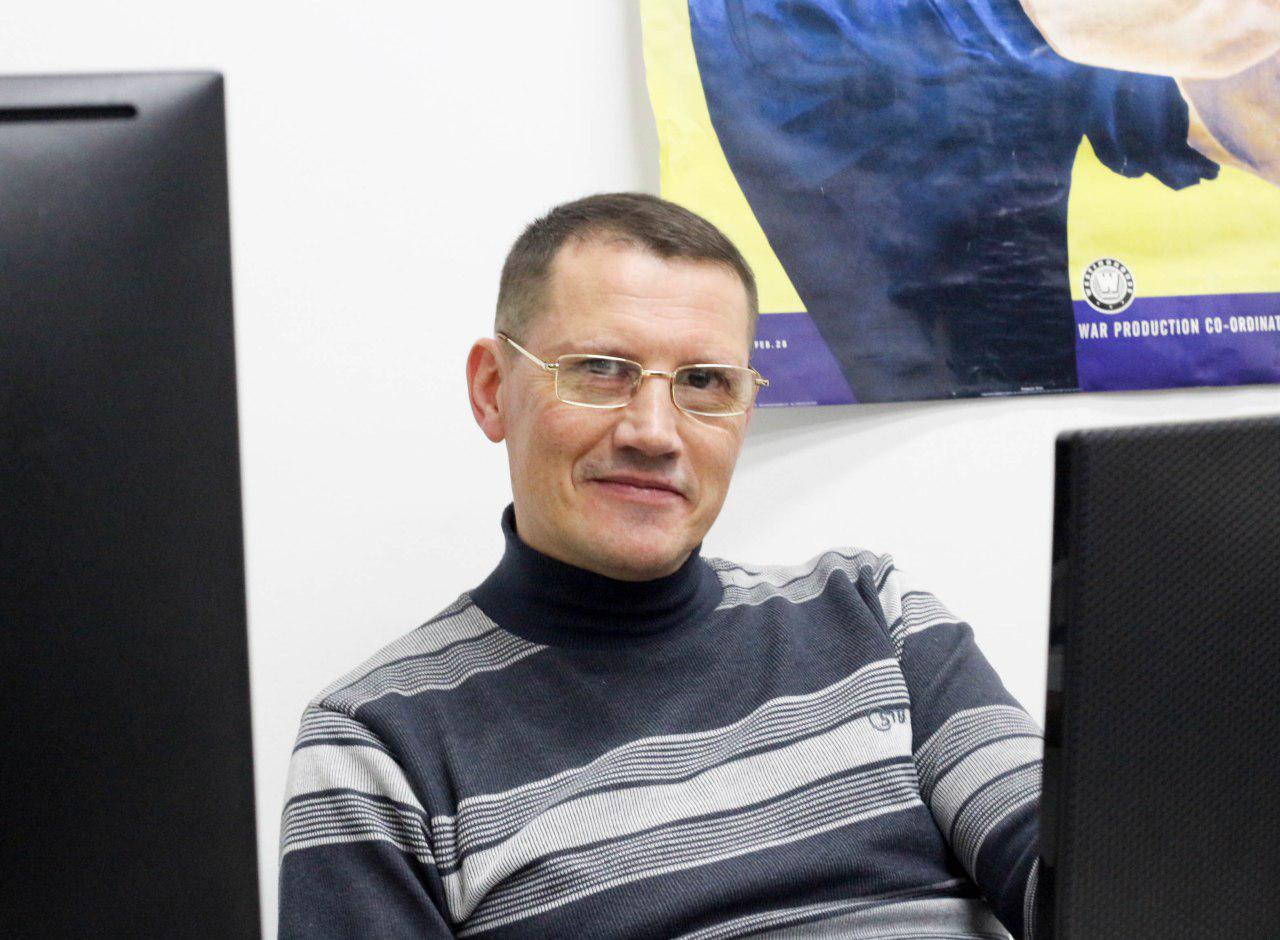 A graduate of "Ш++" says that it's not easy but no pain, no gain. An interview with Kostiantyn Petkov, who drastically changed his line of work and his life.
Nine months ago Kostiantyn Petkov already had one-year experience working in IT. Before that, he had been a bus driver for more than ten years. You can see the unabridged version of this conversation here.
What pushed you to change your job?
To stop being a bus driver? I just felt that it was time, that I was ready. I understood that I had to feed my family. I had to work. I worked, and at the same time, I learned. After that, I looked for work while working, but things didn't go so well. One moment I just quit. I said, "I don't want it". I was sick of the steering wheel and work just found me.
What motivated you?
I didn't want to work with my hands. I wanted to work with my head. Before I started studying programming, I had checked the labor market to decide what to do. Most markets are shrinking, but the IT market grows 20-30% every year. So I thought that was probably what I needed to do. You grow in IT all the time, you honestly earn money, and there is no corruption. I am interested in fair business, with fair rules.
In programming, everything is simple. If you can't do anything, no bribe will help you. That is how I came to it.
I remember well the words of Roman Shmelov (mentor and coordinator of "Ш++") during our first meeting. There we all introduced ourselves, said what we did for a living, why we came. I said that I wanted to become a developer if I can. Roman looked at me and said, "Yes, you can".
Frankly speaking, I didn't study well – I had some bad marks, mostly because of the lack of time. I worked up to 9-10 pm, so I had to study at night. Sunday was dedicated to programming.
How did you learn about "Ш++"?
I read about it on the Internet. I was reading the news and saw the announcement of a free programming course. I decided to write there. Then I signed up, and they warned me that there would be a test. But I didn't know that I needed to prepare for the test! So I didn't pass it :). "Ш++" offered me to try again next time.
I called them and said that I hadn't passed, but I wanted to prepare. They told me how it works there (they have a special course. You can prepare for the test with it. After completing this course, I passed the test. And so the studying began. I worked at day and studied at night.
How did your relatives react? Did they support you?
At first, there wasn't much optimism. But when I passed and showed my first success, things got more interesting. I felt more excited, "Can I do this? Will I go all the way?". Still, it was hard sometimes. And then they supported me. By the way, my son wants to learn programming as well. He was the first one to show his interest, and sometimes he even helped me with various things.
What was your studying experience like? Was it mentally difficult?
Yes, it was difficult for me. There wasn't enough time for thorough learning. I was more encouraged by curiosity than the desire to earn money. But still, I wanted to change my field of work. Being a bus driver has certain limits on payment. You can work all day long, but you can't exceed the limit. But there is no limit here. Everything depends on your skills and knowledge. Dedicate more time and effort to your improvement, and you will grow.
How has your life changed after you started studying?
It has changed to the better. I gained this eagerness. When you realize that at work, you have nothing to aspire to, but things work differently in programming. You want it, you try hard, and you evolve. I understood that I was getting closer to my dream. My colleagues noticed that I started to smile more. Also, I communicate with young people, skilled young people, and you know that your social environment does affect you. Positivity is everywhere.
How would you describe the school to a stranger?
A different planet. The relationship between people is very different here. I haven't worked in many different places. I was in the army, I worked in a factory, and I was a bus driver. In "Ш++" all people are equal. There are no seniors. The attitude to each and every person is the same here. They don't just learn here, this is the place for many events. You come here and feel the positivity everywhere. In the two years I've never seen anyone bored here. You get enhanced by positivity and you take the positivity to your home.
What would you advise to a person who is considering filling the questionnaire, but isn't completely sure?
Don't hesitate, just try it. You have to try. There is nothing difficult: sign up, see the tasks, do them. If you feel that you are ready, choose a convenient time, come and complete the test. If you fail try to learn more and try again.
Yes, studying is quite hard. If you don't have strong motivation, you will probably fail. You need to give it at least 2-3 hours a day. No pain, no gain.