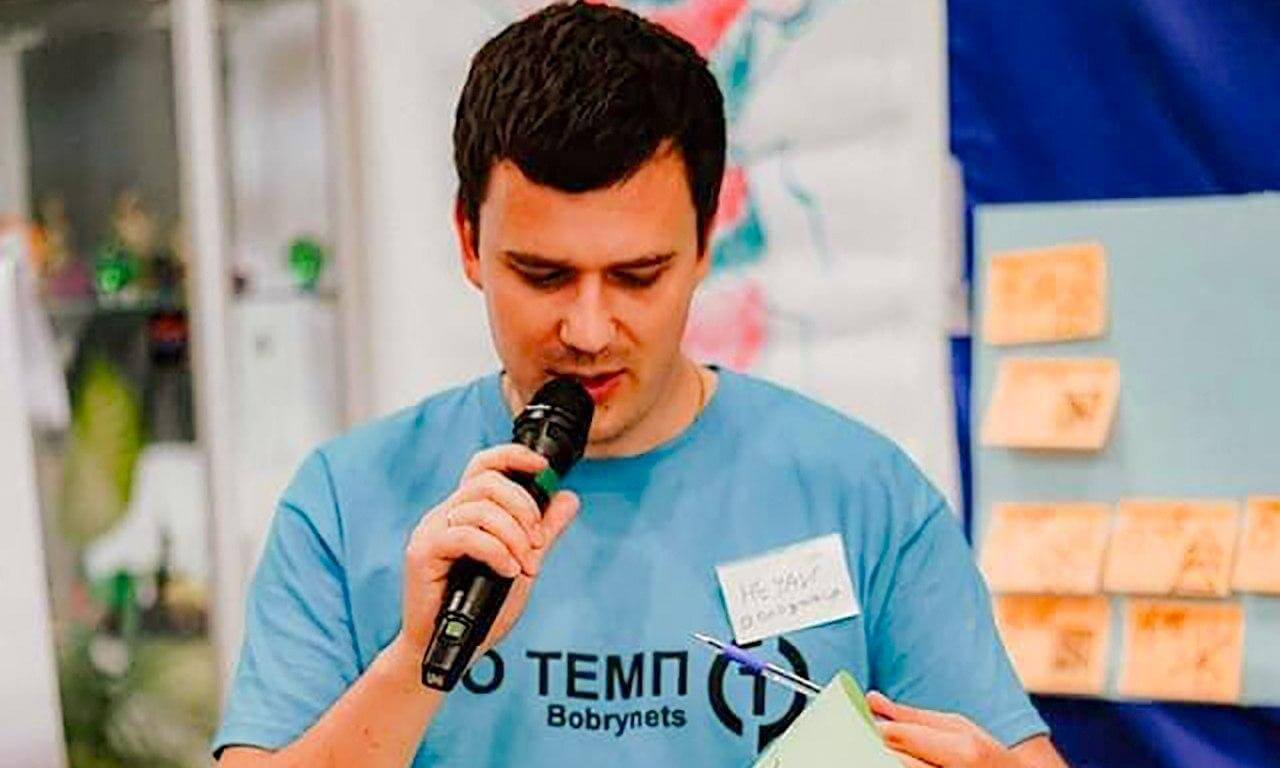 A web developer from Bobrynets is not going to leave his city, he has quit his job as an accountant to become a developer, and he dreams about active youth with no stereotypes.
Volodymyr Nechay has been working as a web developer for five years in a Canadian company with representation in Kremenchuk. He has changed his profession because he was interested in programming; he didn't think about profit then.
― I've got a computer in the second grade, but it was at my home in Bobrynets, so I couldn't use it often. I graduated as an international economist and started working as an accountant. It was my first job, but I quickly realized that some actions should be automated (we were working in Microsoft Excel). So I began learning these things, and as a result, I created several formulas that did the work of 3 people. Not everyone from my department wanted to learn, so some people were fired. On the other hand, my boss, despite being sixty years old, wanted to develop and learn, so I taught her how to use a PC. This was my first experience as a mentor. She asked the head of the facility to buy a PC for her work, and even now, accountants of that facility use my programs. Then I became interested in programming and wanted to learn a programming language in which Excel was written. But I didn't like it, so I started reading about PHP, and at the same time, I learned about School++.
When I came, developers didn't earn that much, but I came by vocation, not because of money. Moreover, the school was paid then (before 2014 School++ was paid). The most surprising thing for me was the ease of perception. Though I paid for lessons, I didn't focus on money. I was thinking about applying to a large holding company as an accountant. After several classes, I told our mentor that I might quit, and I was ready to pay for the completed lessons, but he rejected, saying that it's not about money. After a disappointing interview in the holding company, and I realized that I don't want to work in an accountant area. I paid for lessons with the money I'd earned when I was studying at university. I was traveling to Switzerland and France for an internship. All earnings I kept in franks and euros at my house. And then I had to exchange them for studying. I can't say that everything went perfectly, but it was cool. We learned one programming language every week. It was quite an intensive course, especially for me. I worked in an educational facility in Bobrynets from 8 am to 5 pm, and we had a lesson every Wednesday at 6 pm. So I asked to leave 1 hour earlier, took a bus to Kropyvnytskyi, it took me 1.5 hours to reach the city. When I arrived, I studied till night. I slept over in my friends' at low costs. I woke up at 5 am, returned to my city, and went to work right away. And every Saturday I spent in Kirovohrad learning. This lasted for at least six months. During the studying process, Volodymyr realized that he would change his area of activity. In addition to the desire to grasp the new profession, his life drastically changed: he married and was waiting for a daughter.
― I was extremely motivated when I finished studying. I started looking for a job intensively. I found a company in Kremenchuk quite fast, and I still work there. I never changed work in the programming area because I like this company, everyone accommodates and respects me here. Before, I also worked on freelance because I was going to buy a new house, and one work wasn't enough. I bought a car that also required extra earnings, but now I rarely take some additional projects.
He is not going to change his work because he appreciates the trust he has and his team.
― I would work here all my life. They understand and respect me here, and I do too, so I don't see any reason to leave. On the freelance clients watch and control your work every hour. Tracking (a system that controls your activity during the work process) is the most hated thing. Sometimes I tell my clients that I wouldn't use the tracker. In my opinion, using trackers is a kind of disrespect to a high-level specialist. In exchange, I give them a high-quality product and honesty. Especially since having a 100% completed profile on UpWork, every achievement I could collect ― I have, it is indeed a high indicator. Very few people of my specialization on UpWork have a 100% rate. I know one, and he is also Volodymyr Nechay, can you believe the coincidence?
In the developer's opinion, life in Bobrynets is comfortable and inexpensive. He tried relocating once for a short time, but he returned soon.
― I moved to Kremechuk at my first job for a few months. By that time, my wife was pregnant, and we were thinking of where we would live after. So we decided to return to Bobrynets, where, as we believe, raising a child is safer. We could say then that it was because of the child, people move to bigger cities and even other countries for kids, but our situation is reverse (laughing). I know everyone here, my friends live here; I chose the easier way this time.
What's also important is that everything is cheaper here. The only thing that we miss here is a Gymnastics club. My daughter wants to do Gymnastics, but here we have only a dance club. And I wouldn't like to leave for another country. It's a mentality matter. People there are not bad, maybe even better, but they are not related. I feel fantastic here, so I don't see a reason to leave.
Now Volodymyr is a volunteer in School++. He guides the E-commerce area. He likes participating in the project and recognizes our philosophy.
― Six months after graduating from School++, I was so inspired that I opened my school in Bobrynets, where I taught programming. I found the facility, visited several schools, tried to teach, but it didn't last long. I lost faith when people came, and they didn't understand anything and didn't even try to. As a result number of students heavily decreased, and we went online. I was so sad that I didn't teach and volunteer. But I truly love teaching, and I decided to help the school where I became a developer. I follow School++ news on social media. I like how non-motivated people just drop out, and students have a certain level of preparation. Even if I don't finish teaching my students and they will start working, I will consider that I helped them. My course is short, and my goal is for them to find a job. Another important thing is to develop communication skills during the studying process. Work in IT is not only programming, but this also includes soft skills and teamwork, I would even say that these skills are more critical. School++ allows you to obtain those soft skills. Learning algorithms is not enough, I highly recommend you to have fun and enjoy the process and if you can't handle something, ask for advice. I have one rule: If I can't solve a problem, I ask someone for help.
In spare time Volodymyr spends time with his family, trains, does everything to make his life more enjoyable. If he wants to go for a picnic, he does that, does fishing, and gathers his friends.
Furthermore, he is an active citizen: he organizes events for young people. He is a leader of a public organization TEMP. In his opinion, social activists have changed a lot for the past few years, so we should never stop.